Long hours at a desk can wreak havoc on your back. Poorly designed office chairs can cause lumbar collapse, spinal curvature, or overextended muscles.
If you sit for most of your day, you've almost certainly experienced some form of back pain. A lot of people accept some back aches as the norm, but they can have serious health consequences, from muscle issues to compromised immune systems, and even shortened lifespans.
That's why it's so important to have the right office chair for your back. With the proper fit, cushion and support, a new seat can make a world of difference in your back comfort, as well as your overall health.
A great office chair for back pain has an ergonomic design to support your spine without causing any stress points to build up. It also has plenty of cushion to relieve pressure wherever you feel it. Most importantly, it's adjustable so that you can make sure all the support and cushion lines up where you need it most.
Of course, every back is different. That's why we've gone on a comprehensive search for the best solutions to recommend in this guide. We've picked three of our all-time favorite models to recommend here, as well as some popular alternative seats, like kneeling models and ball models. We'll talk you through all the features these seats have to relieve your back pain and keep the rest of your body happy, as well!
Let's start with a quick glance at some of our favorites:
Best on a Budget
Serta Executive
Rating: 4.3
Reviews: 492
Free Shipping
1 Year Limited Warranty
Best Seller
Herman Miller Aeron
Rating: 4.3
Reviews: 320
Free Shipping
12 Year Warranty
Best Quality
Herman Miller Embody
Rating: 4.1
Reviews: 88
Free Shipping
12 year Warranty
Reviews of the Best Office Chairs for Bad Backs
Our top recommendation to buyers on a budget comes from Serta. It's a simple, sturdy executive chair with full-body padding and ergonomic supports. We like this one because it looks like suede at a fraction of the cost. It ticks all our comfort boxes without breaking the bank, and it's sturdier than other budget options.
Pros:
It's extremely inexpensive. This Serta is available for around $100, so it'll be accessible to just about any buyer. We think it provides excellent value for money, especially when it comes to back support features. One of the most common comments we heard from previous buyers was that they were surprised how comfortable it was for the money they spent.
The microfiber upholstery looks like suede, but for a much lower cost. It's super soft, and makes your office a lot cozier. It's also easier to clean and maintain than leather. We also like it because it stands out from the typical black or brown options. This one's much brighter and warmer.
This is a comfortable seat–much more comfortable than other budget models. The Serta is fully padded in the seat and back, with layered cushions under the upholstery. There's also padding on the armrests.
We like the layered body padding on this seat, since it provides a nice balance between cushion and support. You'll get pressure relief, but you won't feel like you're sinking into it.
Even though it's budget-priced, it has all the key ergonomic features you need for back comfort. This model has a waterfall seat edge, curved lumbar support, and a padded headrest. The waterfall seat relieves pressure on your legs, keeping circulation happy throughout your lower body. The lumbar support is essential for making sure your lower back is safe all day long. It keeps your pelvis at a slight forward tilt, which helps your spine maintain its proper alignment.
It's a high-back chair. That means your whole body is supported, even your head and neck. Neck strain can have a way of traveling right down your back, so you might feel symptoms lower down and not realize they came from your neck.
The Serta makes sure your neck is properly supported, so those long back muscles can relax. The high back is also very important for keeping your upper back and shoulders happy. It's wide enough to allow your shoulders to sit comfortably, without scrunching forward.
It's built on a sturdy nylon base and caster wheels. We like nylon much more than the cheap plastics used in other budget models. It's shatterproof, so it can't crack or warp like plastic. As a result, we didn't find any complaints about the durability of the Serta's base.
You can adjust the height, tilt, and tilt tension. You can also lock it in upright position if you don't want to lean back. All the adjustments are easy, with the side knobs next to the seat.
It swivels 360 degrees.
It's covered by a 1-year warranty.
Cons:
The seat of this is built around a particle board core, which is less durable than real wood or metal cores. Some heavier users, as well as some buyers who leaned back a bit too aggressively, had issues with bolts coming loose in the core. This definitely isn't one you'll own for life, though it does have better durability than its competition.
The armrests aren't adjustable. That could be annoying if you like to pull your chair in under your desk for typing.
This Herman Miller model has been an icon of the design world for over a decade now. It was pioneering when it came out, and it's still as innovative as most new chairs on the market.
The Aeron combines a professional, traditional aesthetic with lots of modern ergonomic advances. We especially love the adjustable lumbar support, as well as the pellicle mesh suspension. We'd recommend it to anyone who wants an excellent back pain relief in an executive, traditional package.
Pros:
It's award-winning. While a lot of office chairs claim to be innovative in addressing back pain, the Aeron won loads of design awards for actually proving it. This model won the Design of the Decade award for the 90s, and it has a permanent place in the Museum of Modern Art. That's because it offers almost infinite adjustments. Even though other models have ergonomic features, they're not always adjustable. The Aeron stands out because all of the ergonomic features are completely adjustable.
And it really is adjustable. You can adjust the height, the depth of the seat, the back and lumbar supports, the armrests, and the tilt settings. The exceptional adjustability was what really made the Aeron stand out for many buyers. They said that even over the course of hours spent sitting down, they never felt fidgety or needed to shift their position.
It comes in three different sizes. That's a huge advantage, because you can buy one that fits your body perfectly, rather than having to settle for something that's almost the right size. Having a seat that's more closely sized to your body means the ergonomic features and supports will line up exactly as they're supposed to. That means maximum back pain prevention!
There are lots of ergonomic features onboard. The waterfall edge helps maintain good blood flow in your legs. The posture-fit lumbar attachment provides adjustable support for your lower back. It's one of the only adjustable lumbar supports on the market! There's also a special back support, which is designed to keep your pelvis tilted slightly forward, to prevent curvature and collapse in your spine.
The pellicle mesh suspension relieves tension and supports your body while dissipating heat easily. It's used in both the seat and the back of the chair, so you don't develop any sweat spots anywhere.
It's very sturdy. The Aeron is built right here in the USA, from premium materials. It has an excellent reputation for durability and long term comfort. The armrests are padded in real leather, and the base is made from solid aluminum.
Previous buyers found it extremely durable, and we heard from more than a few reviewers who had owned their original Aerons for 15 years! That reputation for quality is backed up by a very impressive 12-year warranty from the manufacturer.
It's green. All Herman Miller products are made in a factory that uses 100% renewable energy. It's also made from mostly recycled materials, and nearly completely recyclable at the end of its life.
There are lots of options. In addition to the three different sizes, the Aeron is available in a range of colors, trim options, and weaves. You also get to pick the caster wheels to suit your flooring. There are options for hard floors, deep carpets, or commercial materials.
Cons:
It's quite expensive. Even though it's been around for a while, the Aeron still costs over $1,000. On the other hand, many buyers wrote in their reviews that they found the cost quite reasonable when they considered how much time they spent seated, and all the money they would have spent on back relief with other seats.
3. Herman Miller Embody
The Embody is Herman Miller's latest flagship model. It's an improvement on the older Aeron, with a completely redesigned support system and even more adjustments. We're blown away by the sophistication of this model, which was designed in collaboration with 20 different medical experts.
It actively moves with you as you shift in your seat, so you're constantly supported. Buyers say it works absolute wonders with back pain, posture, and other normal downsides of sitting all day. If you're looking for the ultimate back pain solution at any price, we don't think you can do better than the Embody.
Pros:
It was designed by medical professionals as well as furniture designers. The Aeron was the pinnacle of ergonomics in the 90s, since it perfected all the "traditional" features to fit a body more precisely.
The Embody thinks a little differently about how a chair actually works, to come up with a more active product. Medically speaking, it's designed to provide active rather than passive support. That means it stimulates blood flow and constantly works to realign your spine, so you think better all day.
So, how does it actually work? It uses a spine-like suspension system to provide flexible but ergonomic support. There's a central "spine" support bar along the back of it which connects to a bunch of smaller support pieces, forming a matrix of support points.
The really innovative thing is that they actually move with you as you adjust in your seat. However much you move, your spine remains properly aligned. That's especially important if you spend lots of your day looking at a screen.
In addition to the little "vertebrae" supports providing structure, they also help distribute your weight evenly. That cuts down on pressure points, and keeps both back and leg muscles relaxed.
The Embody has all the ergonomic features we liked on the Aeron, including the waterfall seat edge, lumbar support, and adjustable seat settings. This one also has an adjustable back support, thanks to the separate spine system along the frame of the seat. It's one of the best features we've seen for addressing back pain, since it allows to adapt the seat to your individual spine.
Like the Aeron, it's almost infinitely adjustable. You can adjust both the height and depth of the seat, as well as the lumbar support. There are also adjustments for three "comfort regions", the thighs, sit bones, and thorax. Best of all, you can adjust not only the height but the width of the armrests.
It has a special fabric upholstery which mimics many aspects of skin. It's a hybrid textile between woven fabrics and mesh. We like it because it feels like smooth fabric, but breathes easily like mesh.
It's just as sturdy as the Aeron, and it's covered by the same 12-year warranty.
Cons:
It's even more expensive than the Aeron.
The Embody has adjustments and smart engineering features which make it able to fit just about anybody. However, for all its innovations, some reviewers just didn't like it. If you're someone who likes lots of cushion, you probably won't like the Embody's active suspension system.
With that said, you may want to think about whether those cushy traditional models are actually good for you. If they allow your spine to cave or compress, they may be doing more harm than good.
See also:
We've looked at three models which, for all their various innovations, are fairly traditional. They're a simple frame with a seat and a back, like you're used to in any office.
However, in 2017, many people are thinking outside the box of an upright chair. There are quite a few alternative options out there now, from hammock-like hanging chairs, to basket chairs, and more. Here are a few of our favorite alternative solutions for your back pain:
Best Ball Chair
The most popular alternative model out there at the moment is the ball or balance seat. These seats use a yoga or exercise ball, just like you'd use for pilates or for balance exercises at the gym.
They're designed to keep your abs, glutes and other key core muscles engaged as you sit. This improves posture, and keeps your blood pressure up to normal pulse as you sit.
Fans of these say they make for a more active day at work, and help you think better at your desk. They're also a great way to improve core strength without leaving your chair! Since you're using your core and hips to support your spine, you're placing far less stress on those tender back muscles.
One of our favorite ball chairs on the market right now is this Safco model: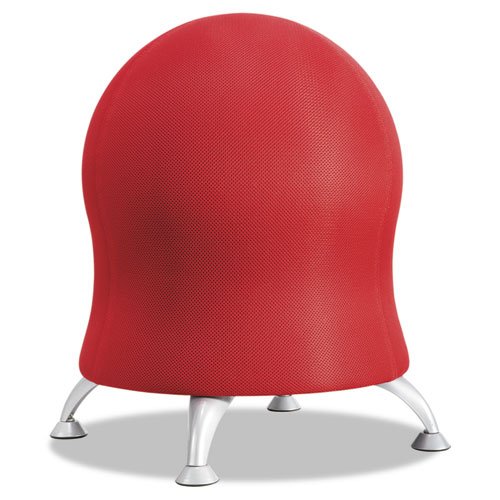 Most models use an actual exercise ball in a frame or stand. The stands are usually a bit cheaply designed, and often break. Without a frame, the ball rolls away. What to do?
This model uses actual chair legs, and a modified ball design to get the balancing part of the ball inside a traditional chair form. We think it's a great way to allow for the benefits of a ball with a few of the features that make ordinary chairs such a big part of our lives.
There are lots of features we're loving on this model: it has a fabric covering over the exercise ball, to keep static down, and make this feel a bit more like furniture rather than gym equipment.
Because the seat is narrower and higher than other ball chairs, you can wear normal clothes without sitting awkwardly or worrying about skirts. Having the ball contained like this also makes it much less vulnerable to punctures. With a 23" seat height, it fits at normal desks, and it comes with powered steel legs to help it look the part.
We think this is a great touch for any funky, modern office. The Global Educator Institute gave this a Seal of Endorsement because it's so effective in stimulating minds and keeping kids from feeling restless or sleepy. You can plan on the same benefits in your office!
Best Kneeling Chair
Kneeling chairs first emerged in the 1980s, and have had a loyal following ever since. They use forward-angle seats and a kneeling pose to help you open up your spine more than a traditional 90-degree chair.
They encourage better lumbar curvature, and more core engagement, sort of like a ball chair. While they're certainly not for everyone, especially people with bad knees, many buyers have found that these make a significant difference in their back symptoms. So, especially if you have lower back pain, you ought to give a kneeling chair a try!
This premium model uses thick memory foam cushions on the seat and the leg pads, to keep you comfortable for long hours. It's also one of the only kneeling models out there to use a swivel base, like a normal office chair.
We like it because it combines the ergonomics of a kneeling chair with the best features of an upright seat (a lot like our favorite ball chair). In fact, it even combines the kneeling posture and pads with a padded backrest, in case you need a break from kneeling. One buyer said, "No more lower back pain after sitting at a desk all day. Love it!!"
While many other kneeling chairs are made with thin wooden frames, this one uses tubular steel for better durability. It's also polished, so it doesn't look nearly as utilitarian as some other metal kneelers we've seen.
We also love the thick cushions, which are much deeper than budget or even mid-range kneeling options offer. It comes in a range of funky colors, and is more affordable than ergonomic uprights. If kneeling chairs are your style, try this!
Which is the Best Chair for Your Back Pain?
The Serta is the clear choice for people on a tighter budget. It's much, much cheaper than either of the Herman Miller models, and it has all the basic features you need to stave off back pain. However, it's not nearly as adjustable, ergonomic, or durable as the Aeron or Embody.
The Aeron is the best choice for people who want the benefit of modern ergonomics in a package that looks a bit more traditional and executive. It's slightly less expensive than the Embody, and offers much of the same adjustment features.
We especially like the different size options, which aren't available on the Embody. If you have a smaller or larger frame than the average person, you might want to look at one of the Aeron sizes.
The Embody is our recommendation for people who want the absolute best solution for back pain, aches, and any other postural problems you may have experienced with lesser chairs. It has the ultimate in adjustability, and smarter ergonomics than even the Aeron.
It's pretty much guaranteed to improve your posture, and previous buyers said they could feel a definite improvement in their spinal health and back symptoms even standing up!
However, it does look very modern, so it may not fit into every workplace. It's also very expensive, so it may be cost-prohibitive for some buyers.
How to Shop for the Best Desk Chair for Back Pain
Think about your body:
A lot of back issues are the result of a poorly fitted chair. You want to make sure that your seat is the right fit for your specific body.
If you're taller than average, make sure you have a high-backed chair that can adequately support your head and neck. Likewise, you'll want one that adjusts to a greater height, so that your legs aren't sloping down towards your back.
You should ideally sit with the front edge of your seat slightly lower than the back. That keeps your pelvis tilted forward, which is super important for proper posture and spinal alignment.
If you're on the shorter end of the spectrum, you'll want to think about the opposite. Look for chairs that have lower backs, so a high headrest doesn't angle your head down, and other features and adjustments to suit your smaller frame.
You'll also want to think about what specific aspects of a chair make your back most comfortable. Do you prefer lots of cushion? Do you prefer chairs with a strong ergonomic core? Do you like your core to be engaged, or relaxed as you sit?
Do you use your chair in concert with additional cushions or equipment? Do you sit back from your desk, or roll your legs under your keyboard? Answering all these questions up front will help you narrow down your options.
Look for both cushioning and support:
Whether you like lots of cushioning or lots of support features, make sure you're not excluding either aspect in your new chair. Even the most ergonomic chair will start to get achy after a while if there's no cushion.
Plus, lack of cushion can lead to circulation issues, sleepy limbs, and pinched nerves. Conversely, excess cushion can allow your spine to sink into the chair, which is very bad for posture, and can lead to back issues.
Think about your specific symptoms:
Depending on your where and how your back hurts, you'll want to look for different comfort features in your new chair. If you're having lower back issues, for instances, chances are you're getting either too much or too little lumbar support.
If your spine is starting to curve backwards or collapse into the chair, you need more lumbar support. If you feel like your spine is being pushed out, you probably have too strong of a lumbar support.
For upper back and shoulder pain, make sure you have a high-back chair which provides plenty of pillowing. You'll also want to make sure you have enough room at the top of the chair to sit naturally, so you're not scrunching your shoulders forward.
Rather than focusing just on your symptoms, make sure you consider the root of the problem. For instance, a lot of upper back and shoulder pain can come from poor neck support.
Likewise, lower and mid-back pain can be caused by poor hip and pelvis alignment. Make sure you're addressing these causes, rather than just the pain itself.
Be sure to ask your doctor or physical therapist about your specific needs, so you can make sure that your new chair will alleviate, not aggravate, your symptoms.
Consider your budget:
Office chairs can cost anywhere from $50 to $1,500+. We recommend spending at least $100 minimum, if you've got back pain issues. Under $100, you're looking mainly at barebones, utilitarian chairs with poor ergonomics and very thin cushioning.
The more you spend on your new chair, the more you can expect in terms of both ergonomics and padding. More expensive models have been designed better, and have more ergonomic features like lumbar support, waterfall edges, and neck rests.
They also have thicker cushioning, and padding which is made from more durable materials. Cheaper chairs have polyester stuffing, which can pack down fairly quickly. That really reduces the comfort factor over the course of a year, especially if you work from your desk all day, all week.
Lack of cushioning can be rough on your hips and pelvis, which in turn causes back pain. Higher end chairs use foam padding, mesh supports, or other more sophisticated membrane systems.
These materials last longer, and help relieve tension better than fiber stuffing. If you're looking for a heavily padded chair, we recommend spending around the $400-$500 range for something with memory foam cushioning.
Top-shelf models have sophisticated support systems which adapt to your specific body. Some of these options have adjustable lumbar support, back support features, and different comfort settings to choose from.
They'll also offer much greater room for adjustments to help you fit the chair more precisely. In terms of back pain, that means an ergonomic design that can address your specific symptoms, as opposed to simply offering support for the average person. You can expect to pay around $1,000 for a premium ergonomic chair, like a Herman Miller or Ergohuman.
When you consider how much you're willing to spend on your new seat, make sure you think about a few key factors. Consider how much time you spend in your chair every day. Then, start thinking of your budget in terms of how much your chair costs you each week, over the course of its lifetime. Think about the severity of your back symptoms, as well as the amount you spend on therapy or medical treatments.
While we're all looking for a deal, we encourage buyers with back pain to think about making a larger investment in a better chair. Even though a $1,000 chair can seem like an absurd price at first glance, when you spread that cost over years of reliable use, it gets to be much less.
If you spend 40 hours a week in your chair, you should probably consider buying a premium ergonomic chair. These models make a big difference in your health, and are guaranteed to last for upwards of 10 years.
You'll also want to consider the money you could save on medical bills or physical therapy. A $1,000 chair doesn't look so expensive once you factor in not having to go to physical therapy every week.
On the other hand, if you only sit in a chair occasionally throughout the workday, you may be able to spend a bit less on your new seat. Just make sure you're spending enough to cover all the important bases. You want all-over cushioning, as well as key ergonomic features like lumbar support.
If you're strapped for cash and can't afford a premium ergonomic chair, try supplementing a less expensive chair with additional cushions. Shaped memory foam and gel pads are available very cheaply, and they can add custom support where you need it most.
What's Next?
Want to compare the rest of the top-rated office chairs for back pain? Check out the best sellers on Amazon! Or you can simply check Best Office Chair Reviews.